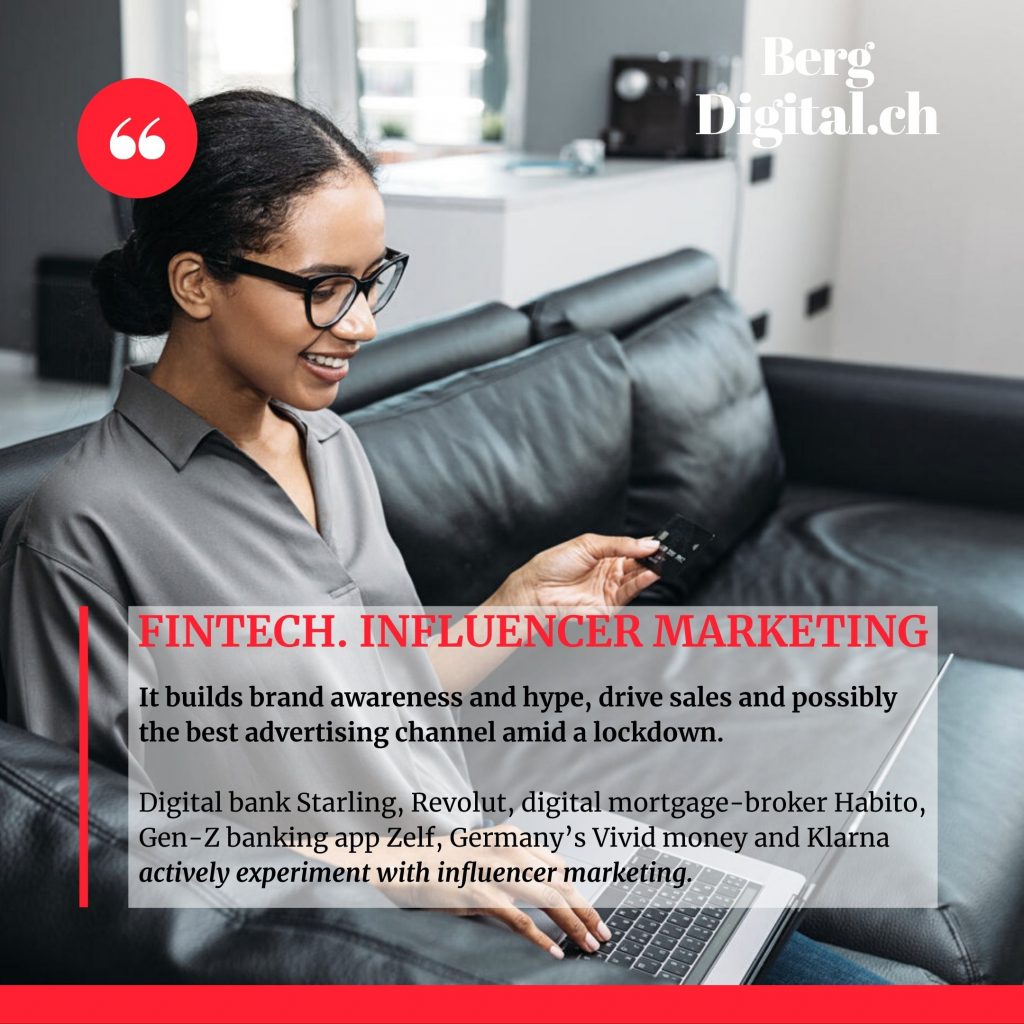 Influencer marketing is also being used for fintechs. It builds brand awareness and hype, drive sales and possibly the best advertising channel amid a lockdown.
Digital banks like Starling and consumer fintechs such as Plum, digital mortgage-broker Habito, Gen-Z banking app Zelf, Germany's Vivid money, SME bank Penta, and Klarna actively experiment with influencer marketing
We observe a so-called shift in fintechs' tactics: dominating platforms where big banks don't yet play.
For instance Revolut paid hundreds of social media bloggers to promote their services using a £32-per-user referral system. They were interested in employing influencers with large immigrant and Latino followings, to reach the right people.
Digital banks like N26 and Klarna have launched few international campaigns, with bloggers (or so-called ambassadors) posting in different languages.
Meanwhile, TikTok has become an attractive spot for US teenager, bank Step thanks to a partnership with TikTok star Charli D'Amelio, who announced her support for Step to her 91M followers.
Zelf and Penta (financial apps) have decided to work with YouTube bloggers, according to their brand strategist, it is the most effective media channel for fintechs. On YouTube the content creators offer high quality, and YouTube content also has a longer lifespan than Instagram or TikTok and a conversion is very high.
17% of companies of consumer fintechs spend over 50% of their marketing budget on influencers, moving away from TV campaigns and tube ads (PWC, Forbs)
Сontrariwise Accenture asserts the influencer marketing strategy has less effect for fintechs focusing on profitability rather than growth. For fintech the challenge is to make money from the customers they already have.
This conveys concerns around "fin-influencing", namely, that it's not a good way to use of VC funds.
Making a general offer, you just flood bank bullshit around.This works only if the influencer is from your target group and you're an affinity bank.
Be very picky selecting of influencers for your campaign according to your fintech marketing strategy, for example consumers don't inherently trust beauty bloggers' advice on issues like money. The financial topic is highly personal, so the likelihood of a lifestyle influencer being a target customer, giving a true and honest opinion, is extremely low.
Analyse the engagement stats for a fashion influencer: the blogger usually received engagement of around 0.01% on her banking ad, while her average was ~5% (comparing how many 'likes' her posts received as a % of her total following).
Do not repeat a mistake: many of fintech campaigns often focus on reach rather than relevance.
Thus digital banking app Pockit tried an influencer marketing, but received a poor return of investment.
In Tandem was decided against an influencer marketing campaign, arguing it is too expensive and there is a lack of viable analytics data. The value of influencers is hard to track.
In Klarna, influencers have come under scrutiny for failing to flag the risks of using credit. This advertising campaign in the UK attracted watchdog to refine the guidelines for influencer posts about Klarna. They have to include warnings about getting into debt.
About legal side of influencer marketing will appear in the next business post.